Bryans Return To Washington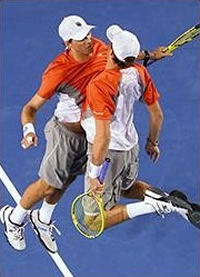 The Bryan brothers, the winningest doubles team in the history of tennis and current world No. 1, are set to return to Washington, D.C., this summer
to compete at the Citi Open.
The American twin brothers, Bob Bryan and Mike Bryan, both 35, are perhaps playing the best tennis of their illustrious career. They captured a
record-setting 91st title last week in London at Wimbledon and achieved the unimagined Golden Slam.
Tthe Bryans will head to Washington D.C. where they have won the title for three consecutive years
(2005-2007). "Washington has always been one of our favorite places to play," Bob Bryan said. "The tournament supported us at the beginning of
our careers, when we reached the semis as wildcard entrants, and then later on we won the title three times in a row. We always play well in D.C.,
so Mike and I are excited to be coming back and compete for a fourth title."
The chest-bumping identical twins clinched their place in sports history with several recent milestones in their 15-year-long doubles career.
Last summer, the pair won gold at the London Olympic Games and finished 2012 as the No. 1 doubles team in the Emirates Association of
Tennis Professionals (ATP) Rankings a record eight times. In January 2013, they won their 13th Grand Slam title at the Australian Open, and in April,
reached another career milestone with match wins (800) when they reached the quarterfinals at the U.S. Men's Clay Court Championships in Houston.
The Bryan brothers join an already impressive list of early entrants and previously announced players participating in this year's 2013 field, including former finalists John Isner and Gael Monfils, along with top Australians Bernard Tomic and Lleyton Hewitt.
The Citi Open is a longstanding Washington area tradition. This year, the 45th edition of the tournament will be held from July 27 – August 4 at the William H.G. Fitzgerald Tennis Stadium in Rock Creek Park. The tournament is one of only 11 ATP World Tour 500-level events worldwide and the only one in the United States. It is recognized by the ATP World Tour as one of the top 20 tournaments in the world. The Citi Open is also a part of the prestigious Emirates Airline US Open Series, the five-week summer tennis season that links 10 North American hard-court tournaments to the final Grand Slam of the year, the US Open.
Overall, the tournament offers nearly $2 million in player compensation, featuring 48 men's singles players and 16 doubles teams and 32 women's singles players and 16 doubles teams.
The tournament's owner and beneficiary, The Washington Tennis & Education Foundation (WTEF), provides underserved children in the D.C. area a safe environment to learn critical life skills both on and off the courts through academic and athletic enrichment.

- Courtesy of ATP