Bryans Capture First Title of the Season at Delray Beach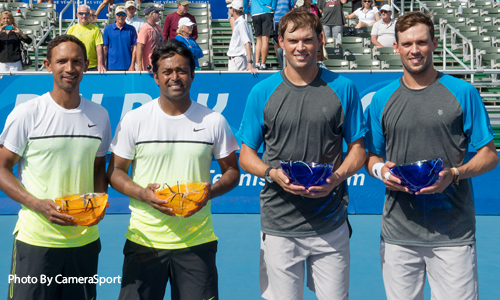 In their 155th doubles final, Bob and Mike Bryan captured their 104th title as a team, defeating # 2 seeds Leander Paes of India and South African Raven Klaasen and 6-3, 3-6, 10-6 at the Delray Beach Open on Sunday afternoon.
Playing in their first tour event in February, the defending champions and top seeds converted on two of five break points to capture their fourth title in the South Florida city.
"We're excited to win our first title of the year in Delray Beach, a tournament where we've played some of our best tennis over the years," Mike Bryan said. "Today's match was high quality by all four players, and it feels good to sneak out the win and gain confidence moving forward into a very important part of the season."
"It's nice to win a title so close to home," Bob Bryan added. "Mike and I had great support all week from the South Florida tennis fans, and it made a difference during this run. Hats off to Lee and Raven on another good week, and we hope to play them in more finals during this season."
Klaasen and Paes, got off to a strong start in the third set Match Tie-break, jumping out to a 3-0 lead before the Bryans found their rhythm to close out the match by winning 10 of the last 13 points. The match lasted just over one hour and was televised on the Tennis Channel.
Fast Facts:
*** Other wins this past week for the Bros. included: Dustin Brown (Germany) - Adrian Mannarino (France), 6-3, 7-5; J.P. Smith (Australia) - Michael Venus (New Zealand), 6-1, 6-3; Eric Butorac - Rajeev Ram (USA), 4-6, 6-3, 10-4; and Leander Paes (India) - Raven Klaasen (South Africa), 6-3, 3-6, 10-6.
*** Mike and Bob were happy to have golf legend Jack Nicklaus and his wife Barbara rooting for them in their box this past week. They also appreciated the support of their long-time pal, Nashville singer-songwriting star, James Slater, and his entourage. The lovely and enthusiastic Hagit Hoffman and her friends and family also rooted on Mike and Bob, as did Taylor Townsend's Mom, Sheila. Sheila was a very fine college doubles player in her own right.
*** Speaking of music, the guys had a great time playing three gigs with their Bryan Bros. Band - - - with lead singer David Baron - - - at various gigs for sponsors and fans.
*** It has been a busy month for the twins. They enjoyed going to Greensboro, North Carolina on the weekend of Feb. 6 to support their Davis Cup teammate and friend John Isner's 5th Annual Ebix Charity Challenge that benefitted the UNC Lineberger Comprehensive Cancer Center. John's wonderful Mom, Karen, was successfully treated there at UNC during her two battles with cancer. Mike 'n Bob had a sparkling and entertaining two set doubles match with big John and their other former Davis Cup teammate, James Blake. The event was sold out and jam packed and all the guys also enjoyed doing a big junior clinic there. Coach Bryan emceed the event. Huge thanks to LaGardere's Jeff Newman, Cameron Thaney, Sam Duvall, and Erica Steinberg who all worked so hard to stage the event and raise such good funds for Lineberger Cancer Center.
*** The following weekend the Bryans all journeyed to chilly Akron, Ohio to once again support the great Victory Gallup fund raising event headed up by dynamic Sue Miller. The guys spent lots of time on court playing three Pro Ams, doing one evening junior clinic, and doing an exciting and well-played Mixed Doubles Exhibition with delightful and talented Melanie Oudin and Sachia Vickery. The event was sold out and raised over $100,000 for this great cause and there were good feelings all around. Coach Bryan emceed this event as well.
*** Mike and Bob will be playing in Dubai this week and then the following week they will join Captain Jim Courier and John Isner in Glasgow, Scotland to take on Great Britain in the first round of the 2015 Davis Cup. The fourth player will probably be Sam Querrey, Stevie Johnson or Donnie Young.
*** Mike and Bob are fired up to play Indian Wells again following Davis Cup. They have won that prestigious and huge event the past two years in a row. They are also really looking forward to playing Ryan Macaulay's Desert Smash at La Quinta Resort on Tuesday, March 10. That event is always a star studded extravaganza and you would love attending. For more information, please visit http://www.desertsmash.com/.
*** And always a big highlight for their year is the Bryan Bros. Band performance to kick off the BNP Paribas Tournament at Indian Wells. The band will play on Thursday, March 12, from 5:00-7:00 at the big Food Court Stage on the grounds of the tournament. Once again playing drums will be the famed Counting Crows drummer and singer, Jim Bogios. Other band members and music stars include George Holdcroft from Hollywood and Dan Deshara from San Francisco. Get their early as this gig is all ways packed. Here is a clip from last year: http://www.youtube.com/watch?v=MeiQ1y_p8wE&feature=youtube.
*** The Bros. are also fired up to play the Miami Pro Am once again with 16 of the top doubles stars in the world, with an increased purse of $200,000 thanks to event founder and benefactor Chris Jeffries. This gala and competitive event will be held on March 22-24 at the picturesque Grove Isle Tennis Center. Coach Bryan will emcee the event and tournament hosts are Trey Buchholz and Erika MVP Buchholz. There are just a couple of "am" spots open for this Pro Am and if you play between a 4.0-5.0 level and would like to play you can contact Erika at: erikabuchholz4@gmail.com The Director of Tennis at Grove Isle is Max Mangones and he is our host pro and working hard to promote the event. To get more info on the event contact Max at m.mangones@cliffdrysdale.com
*** Following playing Miami, the Bros. are looking forward to once again playing the United States Men's Clay Court Championships at the venerable and picturesque River Oaks Country Club, April 6-12. http://www.mensclaycourt.com/ The Bryan Bros. Band will also be playing their best of all tennis tour parties there on Thursday Night. Van Barry and his staff, including Bronwyn Greer and Gilly Agosto, do an amazing job on that gala event in early April. The Bryans send along our most heartfelt congratulations to Van for recently been named the new ED of USTA Texas. He will do a great job. No doubt.
*** On the Sunday before River Oaks, April 5, Mike and Bob will headline the Lone Star Tennis Classic. Tim Stallard is putting on this event and he always does a great job and he already has sold out all the sponsorships and VIP Tables and reserved seats. The Bryan Bros. Band will perform following the Bros. Exhibition against Eric Butorac and Scott Lipsky. For more info go to: http://www.bryanbrostx.com/
*** All the Bryans loved Kaley Cuoco's hit new movie, the Wedding Ringer. Kaley was great and the movie is a riot. Kaley's husband Ryan Sweeting is back out on the pro tennis tour and is getting better and better.
*** Mike 'n Bob send along a huge congrats to their former teammate and long-time friend Paul Goldstein. Goldie, the new head coach at Stanford, led his squad to a huge upset win over their rivals across the Bay, Cal, 4-3. The Cards were ranked #39 before the match and the Bears were #14. Onward and upward . . .
*** Huge congrats to Mike's wife Lucie on her winning three 1st place blue ribbons at her horse show in Temecula last weekend. She and her horse Monty from Wales make an amazing team and they are beautiful to watch in jumping competition.
*** Dave McKinney the Tennis Director at the beautiful Spanish Hills Country Club has just announced that the Tennis Fest will be held on Sunday, September 27th. And they have another star from the tour and some big celebs and music stars that will be coming out to support the event. Stay tuned for more info in weeks to come.
*** Coach Bryan had a blast once again emceeing the Blue Gray College Tournament featuring 16 of the top teams in the nation. Alabama won the Women's Title and South Florida captured the Men's crown. Billy Pate's Princeton Tigers had two big upset wins to reach the finals. Clay Torbert did an excellent job as the new TD, taking over for the charismatic Paul Winn, who had brought the tournament to prominence over the past 11 years.
*** Other Blue Gray Staff members we must single out include the friendly and hardworking Geoff Waring, the head pro at the Lagoon Park, for his amazing support of the event by allowing the tournament to use his beautiful facility. Affable and nice Ben Bradshaw, the tennis director pro at O'Connor, was equally generous in providing his first class club - - - with their sharp new black fences - - - for the Blue Gray. Ben helped out with both the morning Tennis Festival for 10 and Unders and also the afternoon High School Clinic. Karen Keene did a superb job with the Hospitality Tent for both the players and the umpires - - - great food and drinks were flowing at all times. Wendy Anzalone is the heart and soul of the tournament providing some 75 of the finest homes in all of Montgomery for the visiting teams - - - this aspect of the Blue Gray is what makes it so very special. The dynamic Eva Sponseller does a fabulous job of getting sponsors and fund raising and promoting the event. Jonathan Hoomes runs a perfect web Site and keeps all the scores right up to date for all fans and supporters. Vivacious Kimberly Matthews, the biggest Auburn fan on planet earth, does all kinds of things to make the tournament a winner and the same can be said of Connie Four Corners Winn. Dani Leal, the former Pepperdine All American and head pro at Wynlakes Country Club helped the tournament in lots of ways, including coming out to help with the junior clinic on Saturday morning. The Blue Gray truly has the best tournament staff in all of college tennis.
*** It was fun to see Harold Edwards in Montgomery there supporting his son Sam and the Alabama Crimson Tide Men's Team. He is always such a great supporter of the Bryan Brothers Foundation and he is all smiles as the grand real estate project that he has been working on for a decade is coming to fruition in Santa Paula. Harold is the second greatest player in the history of that City - - - behind Ramon Guizar.
*** Coach Bryan is humbled and honored to be inducted into the Santa Barbara Tennis Patrons Hall of Fame and he has had and will have a super busy Spring doing events at Greensboro, Akron, Montgomery, Indian Wells, Miami, Horseshoe Bay, Houston, and Columbia. He will also be hosting his Show each day at noon at the Food Court Stage on the grounds of Indian Wells. Last year his guests included Billie Jean King, Stan Smith, Jimmy Connors, Chris Evert, Steve Simon, Raymond Moore, Bob Lutz, Eddie Dibbs, and singing star Gladys Knight.
*** All the Bryans send along their most heartfelt sympathy to Greg, Mike and Matt Broms, on the loss of their father, Dr. Jack Broms last Thursday. Besides being an outstanding orthopedic surgeon, Jack was truly great guy, very cool, really funny with a robust laugh and a kind and caring and warm man. He was a super Dad and he has three wonderful sons to show for his dedication to them. He loved tennis and he was always supportive of our club and of me and he was so helpful to Mike and Bob and when he examined them as little 12 year old boys he did a test on them checking their growth plates - - - they were so very tiny and skinny at the time - - - and he shocked when told Kathy and I that they would be between 6'4" and 6'3" when they grew up. He was right. Bob is now 6'4" and Mike 6' 3 ½". Jack will be missed by us all and he represented the very best of the human spirit. His funeral will be held next Sunday, March 1st, at Community Presbyterian Church (Downtown Ventura) at 4:00pm. We will be having a "Celebration of Life" at Crown Plaza Hotel immediately following the services. All are welcome.