Twins Chest Bump for 105th Time To Win Fourth Miami Open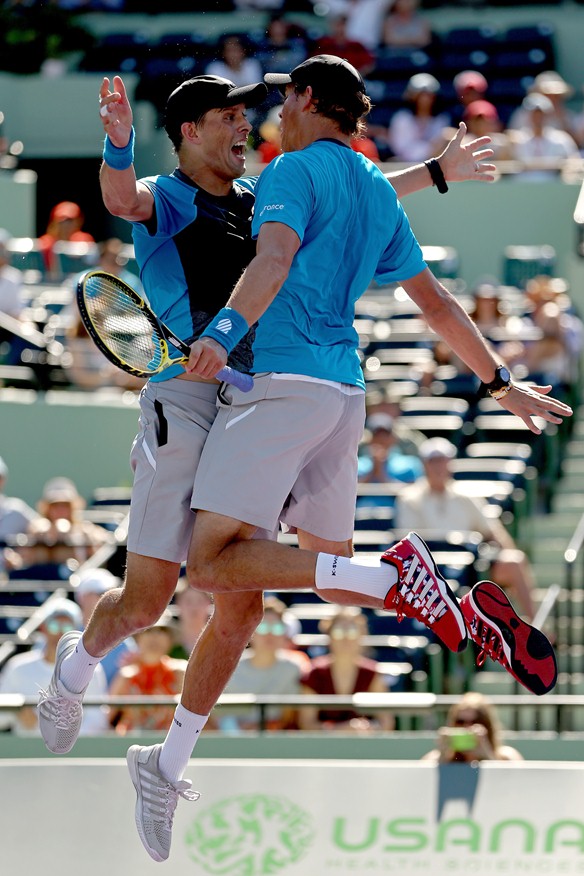 by ATP Staff
Fans in South Florida enjoyed a doubles masterclass as veterans Bob Bryan and Mike Bryan took out red-hot young rivals Jack Sock and Vasek Pospisil 6-3, 1-6, 10-8 at the Miami Open presented by Itaú.
The top-seeded twins captured their fourth title in Miami. The win marks their 33rd ATP World Tour Masters 1000 crown and their 105th title as a team.
The Bryans got out to a quick start in the match, losing just one point on serve in the entire first set.
Both teams made sure to reserve their most dramatic play for the Match Tie-break. The brothers led 7-2 and 8-4 before Sock and Pospisil knotted the match at 8-all. Two clutch points later and the 36-year-old Americans were chest-bumping to celebrate yet another team victory.
Did You Know?
The Bryans are the only team in the Open Era to win at least five titles for 13 straight years and to win more than 900 matches. They are also the only team to win each Grand Slam title at least twice, and they are the all-time team leaders with 16 majors – Australian Open (6), Roland Garros (2), Wimbledon (3) and US Open (5).